Should i use WooCommerce?
Shipping options from WooCommerce
More and more people are ordering products via the Internet, so that a lot of money can be made with online shops. If you want to start your shop on a WordPress basis, you can use the extension WooCommerce use. This powerful plugin enables an uncomplicated entry into the field of e-commerce and is characterized by a multitude of different Shipping options out.
Shipping options from WooCommerce - getting started with shipping classes
Before you go online with your own shop, you need to adjust some basic settings: In the shipping settings area, for example, it is determined which countries you want to send your goods to and which regions are excluded from shipping, and whether the Billing address or the delivery address should act as a standardized shipping destination. If you choose the billing address here, your customers do not necessarily have to enter an additional delivery address. The result is an accelerated ordering process, which is of great importance for customer satisfaction.
The basis of the configuration are the shipping classes with which different articles from your WooCommerce online shop can be grouped: This option is especially recommended for providers with a wide range of products.
A possible example would be a separate shipping class for heavy articles with a weight of up to 5 kilograms, which entail correspondingly high shipping costs. Thanks to this option, you can use a wide variety of products from a parent Shipping group to assign. Since the shipping classes that have been created can be expanded at any time, you benefit in the long term from simplified processing of your sales.
Determine the appropriate shipping zones for your online shop
In the form of setting up shipping zones, settings can be defined for individual geographical regions: A classic example from practice is the definition of a shipping zone for domestic deliveries. After determining the region, shipping methods such as On-site pick-up and Free Shipping can be set. In addition, you can also Flat rate shipping costs determine what shows the diverse range of functions.
When selling abroad, you should also have at least one individual shipping zone for the international shipping invest. The different zones for national and international shipping can be set very easily with a click of the mouse, which goes hand in hand with uncomplicated operation. All in all, the diverse shipping options offer you a high degree of flexibility: You can manage and customize shipping processing in your online shop with WooCommerce without spending a lot of time.
Additional plugins for sending with WooCommerce
The shipping options can be expanded with additional WooCommerce plugins. If the basic functions are not enough for you, these plugins integrate additional features. This allows additional shipping settings to be made, which represent added value for customers. Accordingly, different shipping types such as standard and express deliveries can be offered.
Advanced Free Shipping
The Advanced Free Shipping plugin extends the standard options of the shop system and enables you to create individual rules and conditions. This means that you can easily determine the conditions under which a product is offered for free shipping to your customers in your online shop. The extension gives you complete control over them all free shipping methods. With a few clicks of the mouse, you can create several conditions for "OR" and "AND" for each individual shipping cost type. This means that free shipping options can be used easily and individually for many different user roles in your shop. Among other things, the following conditions are available to you in the Advanced Free Shipping extension:
quantity
User role
Subtotal
country
Post Code
category
Weight
Shipping class
Volume (length, width and height)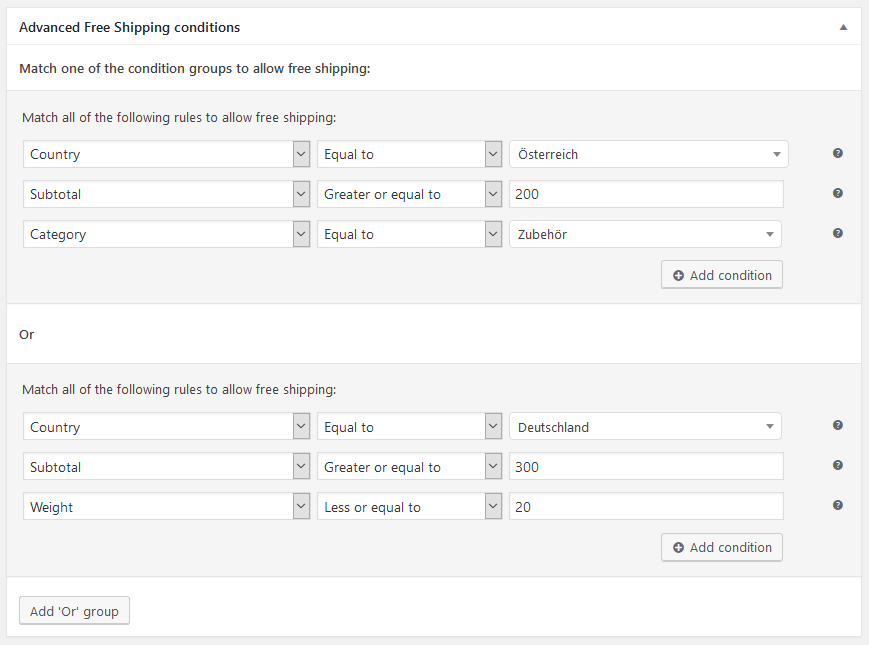 With the WooCommerce extension, you can even create a custom message in multiple languages. From this text, your visitors can see which threshold value is required in the online shop in order to qualify for free shipping. This encourages customers to buy more and increases the sales of your shop. The Advanced Free Shipping plugin has already been installed over 31,000 times, requires at least PHP 5.3 and can be downloaded for free.
WooCommerce Table Rate Shipping by JEM
The shipping plugin for WooCommerce can be downloaded for free and requires at least WordPress version 4.0. The extension can be operated intuitively and without great effort and enriches your online shop by one Table dispatch (step dispatch). The key features of Table Rate Shipping by JEM include:
calculate shipping by weight or total cost
Include or exclude taxes
intuitive user interface
seamless integration with all existing shipping zones
several levels can be set up
You can charge additional fees for every order in your WooCommerce store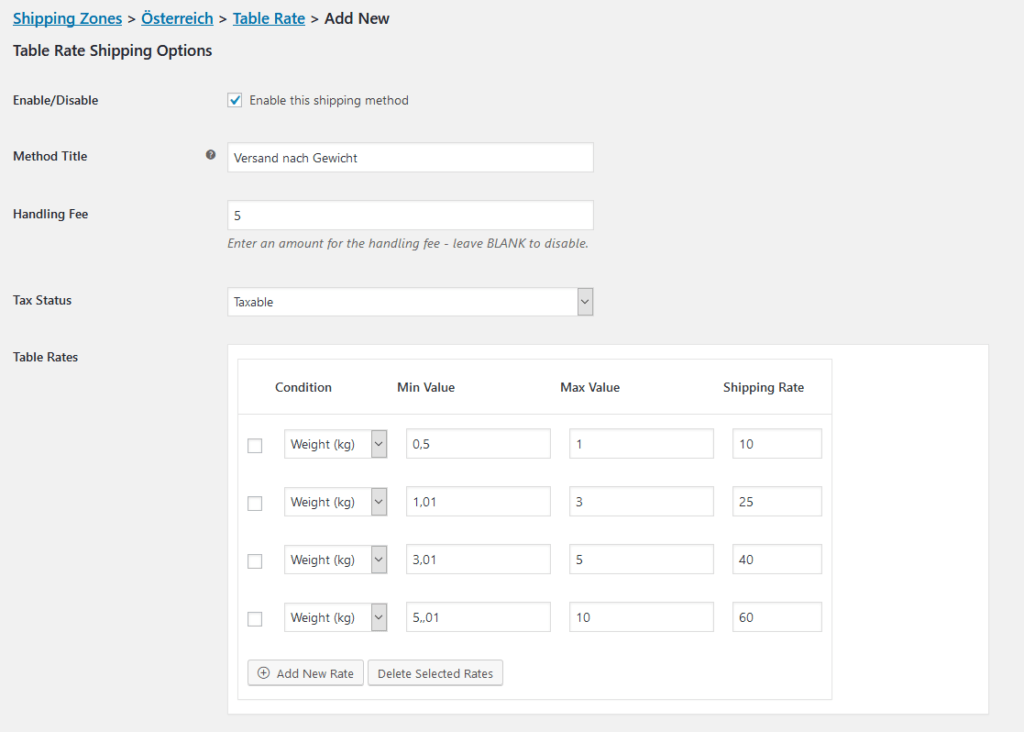 Flexible Shipping for WooCommerce
Flexible Shipping is, as the name suggests, an extremely flexible shipping plug-in for your online shop. With the extension you can easily and conveniently all shipping costs based on the Weight and / or with regard to the Contents of your shopping cart let calculate. The shipping plug-in is offered as a free basic version and as a paid pro version. Both versions require at least PHP 5.6 and can be used in English, German and Polish. You can have the shipping costs calculated individually and, if the goods value exceeds a certain value, you can add insurance or processing costs. In addition, you can send cash on delivery with additional costs and use it in your shop. You can even set rules so that various shipping methods are automatically deactivated or additional fees are charged for one order per product.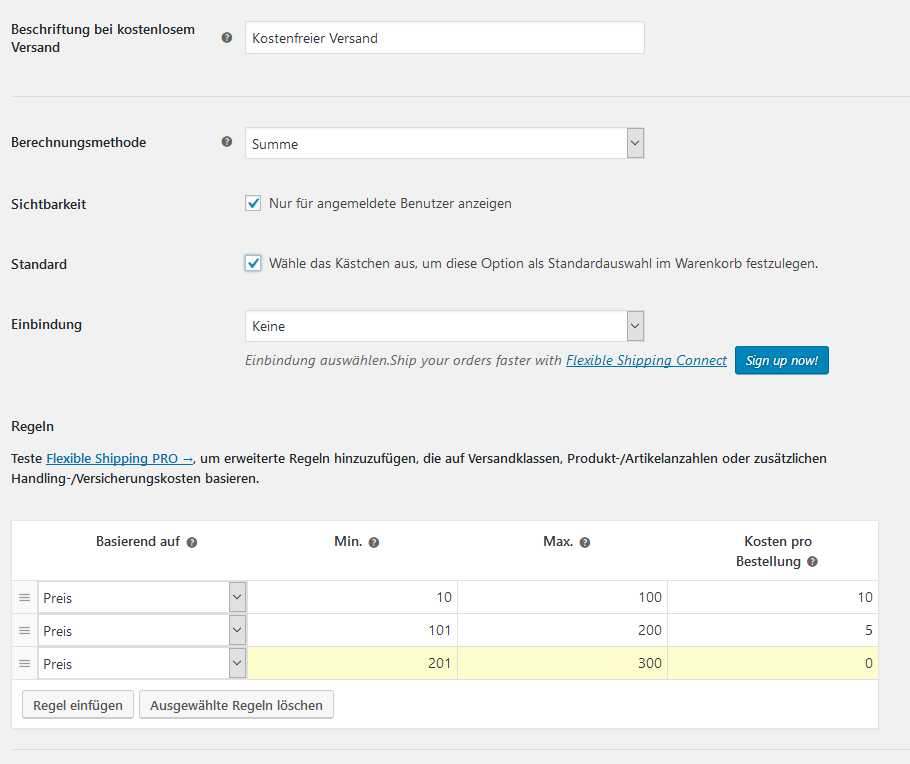 Features of the free basic version:
unlimited shipping methods and cost rules
Shipping costs are based on the weight or total of the shopping cart
Titles and descriptions can be added to all shipping methods
the setting of minimum and maximum values ​​for the weight and the total number
Let charge rules automatically total if they match
Show selected shipping methods only for registered customers
free shipping override method
Couriers can be integrated
Compatible with the WooCommerce 2.6 shipping zones
CSV import possible
supports Polylang and WPML
Extended functionality of the paid Pro version:
different shipping classes are supported
Shipping costs can be calculated in terms of the number of products or the amount of individual items
additional costs can be charged for weight, price, basket position and item
Rules can be stopped or canceled if necessary
the setting of additional calculation methods (lowest costs, total or highest costs)
Set the maximum cost for each shipping method
Use coupons for free shipping
CSV export possible
Weight Based Shipping
The Weight Based Shipping extension enriches WooCommerce with a simple and flexible shipping method that, among other things, reduces costs Base of weight calculated. With the plugin you can create and use several individual rules based on many different conditions. You benefit from intuitive operation and can calculate your prices flexibly and without any effort. The most important features of Weight Based Shipping include:
create an unlimited number of shipping rules for different weights, order targets or subtotals
configure the rules either with a constant price (flat rate) or alternatively use a progressive price based on weight
Depending on the total weight, subtotal or other conditions, various products can be offered in your shop with free shipping
In the Plus version of Weight Based Shipping, additional functions are available to you. Among other things, you can set an individual price for each individual shipping class and thus overwrite the standard prices. The WooCommerce extension has already been installed over 31,000 times, requires PHP 5.3 and the basic version can be downloaded free of charge.
WC - APG Weight Based Shipping
The WooCommerce extension WC - APG Weight Shipping was developed by the Art Project Group, runs in English and Spanish and can be downloaded for free. With the plugin you can expand the shipping options of your online shop and calculate the costs based on the zip code, the state, the country address and the weight. The extension is fully compatible with WPML and the WooCommerce Product Bundles plugin. After the simple and free installation, you benefit from the following functions:
Calculate fixed prices for packaging
Add costs for packaging and other fixed costs as a percentage or amount per product and shipment
an unlimited number of tariffs can be created
individual tariffs for the number of items, the shopping cart amount and certain shipping classes
instead of the sum, choose the highest shipping class in each case
it can be set whether the dimensions or the weight can be exceeded or not
Exclude sending for certain classes or user roles
Payment gateways can be hidden
display custom icon images
Specify and display the estimated delivery time
Table rate shipping
The Table Rate Shipping plugin extends the standard shipping options of WooCommerce and provides you with individually configurable options. You can have multiple shipping costs on the at the same time Prices, location, weight or number of pieces, define and use. With the wildcards you can even compare different regions with one another.
You can add multiple rate tables for each shipping zone. Table Rate Shipping enables different types of spreadsheets. These can be calculated per order, for a position, a line or per class, among other things. With the WooCommerce extension you can set and use individual rules based on weight, number of items, classes or prices. In addition, individual costs can be added per item, line, percentage or unit of weight.
The shipping options extension Table Rate Shipping has an intuitive interface and is easy to use. The useful plugin costs $ 99 for one page.
WooCommerce Table Rate Shipping Pro
Table Rate Shipping Pro WooCommerce plugin will help you set up custom rules. With these, the Calculate shipping options individually. If a customer's shopping cart meets your previously defined conditions, the defined shipping costs are automatically calculated. The extension does some of the work for you because you only have to set up the rules once. With Table Rate Shipping Pro you can create an unlimited number of rules for the individual calculation of shipping costs. These are based, among other things, on:
the total weight
the product quantity in the shopping cart
the total price for all products in the shopping cart
different product categories
the common shipping classes or shipping zones from WooCommerce
the country of destination
different destination addresses
different postcodes
There are many different cost calculation options available to you. Using the CSV, you can create individual rules for time-saving bulk imports or exports. The costs can even be created and used for each product delivery or for bundled shipping. The WooCommerce extension Table Rate Shipping Pro is easy to use, supports WPML, and costs 69 dollars.
WooCommerce Shipment Tracking Pro
In a modern online shop, the option of tracking shipments is now a standard service. After sending his order, the customer receives an email with a tracking link that can be used to query the current status of the delivery. WooCommerce Shipment Tracking Pro is a useful plug-in for integrating shipment tracking functionality into Woocommerce. Over 80 shipping service providers are offered, including UPS, FedEx, DHL and DPD.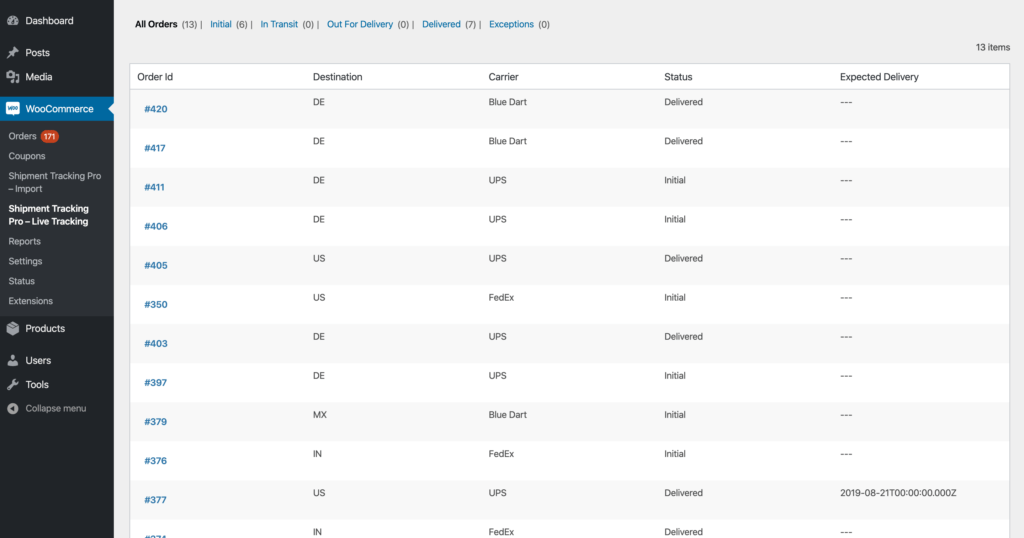 The advantages of the plugin at a glance:
Fast assignment of tracking and tracing to the order
Email delivery to the customer with details on shipment tracking
Live information on shipment tracking in the customer's customer account
Automatically mark orders as "Completed"
Automatic import of Woocommerce send details according to schedule
Conclusion
Overall, the wide range of shipping options and additional plugins offer you a high degree of flexibility. In this way, you can manage and customize the shipping processing in your online shop with WooCommerce without spending a lot of time.
4.4/5(10 Reviews )