Do you like casual or formal clothes?
Black ladies suit - outfits not just for an elegant touch
A suit is a piece of clothing that is becoming more and more common in women's fashion. It is worn by women who want to look elegant and at the same time stand out in the crowd. It replaces the usual clothes. However, this outfit cannot only be used for formal looks, which I will prove to you in this article. Which shoes go well with the ladies' suit?
A black womens suit is a safe and universal choice, but models in gray and dark blue look just as good. Discover how you can create outfits with this piece of clothing in the main role.
Ladies suit - which shoes to wear with a formal outfit?
Let's start with the classic, that is, with the black ladies' suit. Formal outfits with its use are safest to complement with shoes of the same color. High heels will be irreplaceable here. The influencer opted for a black suit, shirt and fashionable sock boots. Admit that this total black look looks very elegant.
The blogger in the photo below opted for an oversized cut with a blazer with large pillows reminiscent of the 90s. To make the outfit look feminine, she put a tight, black top underneath that emphasizes the cleavage, and Sandals in the same color at.
The stylist below also chose a suit with a similar cut and color. However, she chose to do so black high heels and a white shirt. To give the outfit a loose and casual style, she pulled half of the shirt out of her pants.
Suit not just for the business woman
Natalie Portman is also a fan of this outfit, who often chooses it for premieres or important events. However, the actress relies on female cuts that emphasize her flawless figure. A tailored blazer with an impressive neckline, trousers with narrow legs and minimalist heeled sandals - and who says that you can't look feminine in a suit?
And which shoes should you choose with a dark blue ladies suit? This is where black proves its worth. Influencer Mary Lawless Lee paired a black turtleneck and painted it classic boots of the same color With a navy outfit with white stripes. The whole thing looks uniform and elegant.
Don't you like such dark looks? Instead of a black blouse or a black turtleneck sweater, choose a model in white. To white high heels and done! If you are curious how you can combine these shoes, read our article on white high heels.
Styling tip
If you choose a striped or plaid womens suit in a contrasting color, try using the second shade in a different part of the outfit.
W.Which shoes to wear with a ladies' suit? Put on a sporty look!
The one that is becoming more and more fashionable Athleisure stylethat combines formal and sporty clothing elements is another way to wear a women's suit. Jessica Mercedes combined it with Ugly Shoesthat have been extremely fashionable in the past few years and completed the outfit with a patterned t-shirt.
Bella Hadid also chose the outfit with a ladies suit and sneakers. However, the model opted for classic ones white sneakers. These shoes are suitable for both semi-formal and casual looks.
A gray women's suit will look just as impressive. Casual outfits with a women's suit are a good idea for going to town or for hanging out with friends. Discover how Charlize Mystery did it - she chose the gray suit Sneakers of the same color. To make the outfit look girlish, she decided on a model with ribbons instead of laces.
The suit is not the only element of women's wardrobe that has its origins in men's fashion. You can find more clothes and shoes in the article with the title "5 elements of men's fashion that have passed into women's fashion".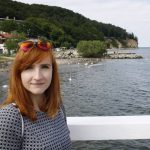 author
Agnieszka Ślęzak
While Converse brand shoes and high heels don't go hand in hand, they're one of my favorites. I have black and floral patterns in my closet. In my private life I am a fan of black humor, animals and Quentin Tarantino's films.
The original text was translated and adapted to the needs of the blog eschuhe.de.