How do I introduce myself professionally?
Self-presentation in the interview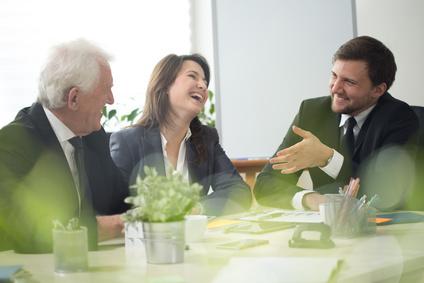 The self-presentation in the interview
Whether it's an assessment center or an individual interview, the request for a brief description of your career is often the top priority in the selection process. "Tell us something about yourself", "Please introduce yourself and your professional development" or "Summarize your career for us" - a classic! We'll give you important tips on how to prepare for this question and how to present yourself confidently.
Ask for your CV in the interview - boring!
However, there is one thing the people you are talking to do not want to hear from you: The chronological and complete repetition of your résumé with all individual stations, starting with the highest school leaving certificate and ending with your current position. Because the HR managers already know this after the first pre-selection of the application documents. The actual task: In five minutes beyond the written application, you should verbally name your qualifications and formative experiences and present them in a structured manner! And preferably always with a focus on the job-related requirements of your potential employer.
Your self-presentation - that's how it works better
Important messages in the interview: I am, I can, I want
An effective short presentation consists of the following components: I am, I can, I want!
I am: You introduce yourself by name and describe your current situation.
For example:
"I am 35 years old, have a degree in business administration and currently work as a project manager at XXX GmbH. There I oversee trade marketing for the DACH region.
"I am about to complete my B. Sc. Degree in nutritional science at the University of Fulda. I will submit my Bachelor thesis at the end of December 2009. It has the following topic ..."
I can: You name the most important stages in your career. Then you can provide examples of performance or projects that might be of interest to the person you are talking to and the position.
You can briefly introduce the qualifications that you have brought with you, from your point of view for the position on offer. Likewise, the most important knowledge and skills with a brief reference to the stations - professionally or privately - in which you acquired them.
For example:
"I have more than five years of experience in trade and PoS marketing as a project manager on the agency side. I am also very familiar with demanding customers from industry and trade. The main focus of my tasks is the implementation of strategies from trade marketing and the coordination of all suppliers and service providers in close cooperation with the client and the individual departments, ie product manager, key account, trade marketing and field service. At the moment I am working on a project that, in my opinion, fits the expected tasks well and that I would like to introduce to you. "
In the best case scenario, you describe a project with a goal, your task and the quantitative and / or qualitative result. You then summarize - as a result of your professional career - your professional and personal strengths and competencies.
I will: Be open about your goals with this application and your expectations of the position you applied for.
For example:
"I would now like to use the experiences from my studies, the internships in quality assurance and my bachelor thesis and develop them further in the position in your team."
What to do with difficult topics
If there are any gaps in your résumé, you should briefly name them, if they are longer than four months, and fill them with content. Remember: You do not need to justify yourself for this, but rather honestly and objectively present what was during this time and what experiences you were able to gain during this time, which can be of advantage for your future professional life.
Then briefly explain how your current professional and personal situation is today. It is important that you are authentic and you can deal objectively and openly with negative professional decisions or other difficult topics during your self-presentation. That shows greatness and self-confidence!
Coordinate self-presentation to job advertisement
Ultimately, the decisive factor when selecting applicants is always the closest match between your qualifications and the requirements of the potential employer. Remember: If you are in a job interview or assessment center, your career has already convinced your counterpart, at least in written form!
Finally, two tips for the job interview
1. Be positive!
Use active and positive statements, not passive and negative ones. So do not: "I was not promoted ...", "I couldn't get on with my manager", "I couldn't ..., so I quit ... ". Instead: "I'm looking for new challenges ...", I was responsible for ... "or" I switched to XXX AG to be responsible for the topic ... as a project manager and to expand my focus. "
2. Practice, practice, practice!
Before the application date in the company, write down your self-presentation in key words according to the above-mentioned subject modules and practice it in advance, ideally with people you trust, tailored to the tasks and requirements of the new position and always according to the motto "describe, do not evaluate".
This is what defines you ...
You know yourself best and the question "Tell us something about yourself" is your chance to highlight what defines you! You still need help? Register with Monster for free. As a member, you get exciting content and valuable tips on the subject Job search, application and interview sent via email - so that you are well informed and prepared for your next steps. And the more experience you gain in the application process, the easier it will be for you to answer the question.