How many millionaires are there in Accra Ghana
6 months in Ghana
Travel time: October 2005 - April 2006 | by Valentin R.
Arrival in Accra
Tue, October 4, 2005
After a whole day on the road (Salzburg - Munich - Amsterdam - Accra) I finally arrived safely at Kotoka International Airport in Accra at 7:00 p.m. Ghanaian local time (9:00 p.m. summer time at home). After I had done the immigration formalities there, I changed EUR 100, - to Cedis (the Ghanaian national currency) at the exchange office.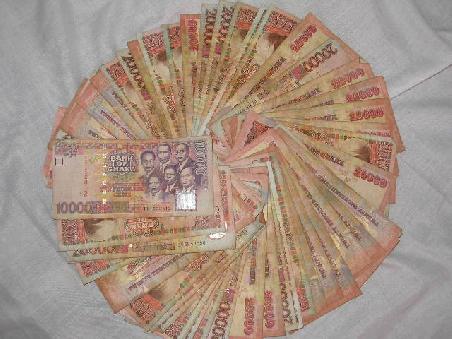 I am a millionaire. 100 EUR is 1,050,000 Cedis, and that is a thick wad of banknotes.
In front of the airport I was expected by Sheba and Michael, from my Ghanaian NGO, and - after we had taken Tony (their boss) with us on the way - to my host family in the "Kotobabi" district (a suburb in the north of Accra), where I got mine I have moved into a room. My host family consists of Margret (my host mother), Prosper ("Magies" 13 year old son) and "Auntie Florence".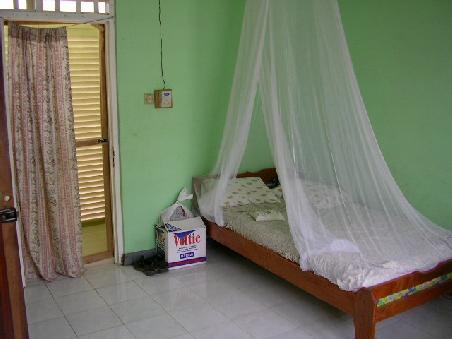 My bed. Next to it is a box of drinking water. The tap water in Accra is generally harmless, but does not taste good (chlorine).
After I was quite tired from the long journey, I wanted to go to bed soon after taking a shower. However, it turned out to be not that easy. Although there is a bathroom with a bathtub in the house of Magie, the shower does not work.
Instead, there is a bucket in the bathtub. You fill it with water (cold water), and then use a second, smaller bucket (called "pail") to empty the water over your body. In the beginning it is not that easy to work with it "specifically", but you get used to it quickly.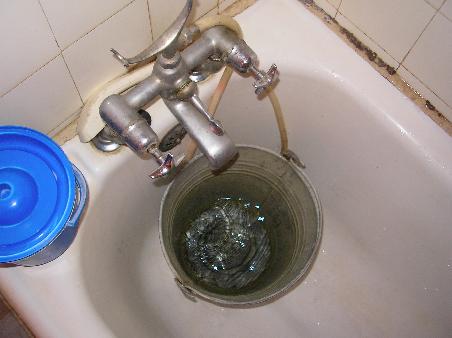 "Bucket" and "Pail"
Wed, October 5, 2005
After breakfast (2 thick slices of white bread with egg dish, plus black tea with milk from the can) I was picked up by Michael. We drove to the Austrian embassy to register myself there and to leave a copy of my passport.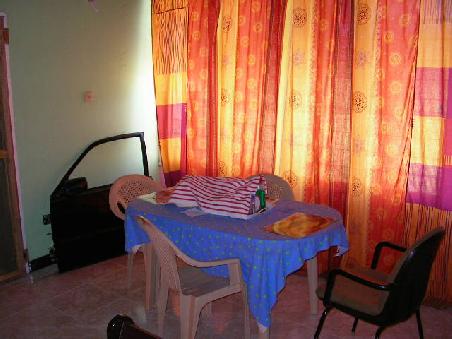 The dining table in the living room. The car door on the wall is a spare part for the car in case you need it.
Then I drove through Accra with Michael, where he showed me the most important places and orientation points. But I have to admit that I was still pretty haphazard afterwards. We also got a SIM card for my cell phone on the way.
At lunchtime I was initiated into the country kitchen. In a small restaurant we ate "Joloff" (rice with pepper and other vegetables) with fried plantains and fish.
But you shouldn't think of "our" peppercorns as Pepper. The peppers are processed whole and are damn hot. For Ghanaians, however, a meal without pepper (pronounced "Pepe") is not good food.
In the afternoon we visited the "Kwame Nkrumah Memorial Park". Not very exciting in itself, but important for the history of Ghana.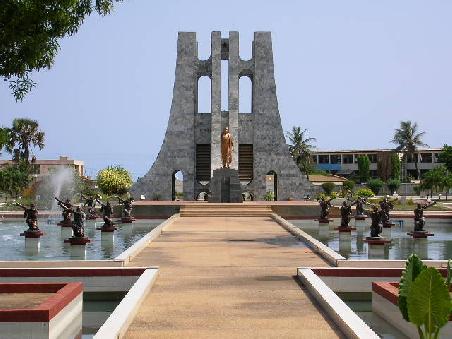 With the demand "Independence now!" Kwame Nkrumah led the British colony "Gold Coast" under the name "Ghana" on March 6, 1957 as the first black African country to achieve independence.
I went back to my host family for dinner. There were yams with hot sauce.
Then I put my mosquito net over my bed (I didn't get to do that the day before) and went to sleep.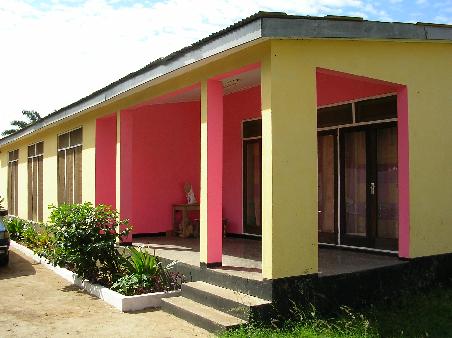 My host family's house. The middle window in the back is my room.
Thursday, October 6, 2005
In the morning I had an appointment with "Mavis", the head of "Ripples Health Care". This organization trains "Health Carers" and manages the projects in which I am supposed to work.
My first job is the hospital in Battor, in the "Volta Region". About 10 of the Ripples students complete their internships there, and I'm supposed to support them for two weeks. Tomorrow we go.
Of course, I need appropriate work clothing for work in the hospital. Khaki pants and white short-sleeved shirts. So I went with Michael to Makola Market, the largest market in Accra.
It's not that easy to find your way around here. But Michael knows the area and knows exactly where we have to go. Still not easy to get two pants in my size. We also get bath slippers, a pile of groceries (to help me cook together) and two boxes of drinking water. In the evening we take the trousers to the neighboring tailor who is supposed to shorten them by tomorrow.
What's the matter?:
Six months of volunteering in Ghana. Get to know culture, travel and work.
Details:
| | |
| --- | --- |
| Departure: | 04.10.2005 |
| Duration: | 6 months |
| Homecoming: | 08.04.2006 |
Destinations:
Ghana