How often do you drink bubble tea
Make bubble tea yourself (recipe)
Would you like to make bubble tea yourself?
Here you can get my delicious bubble tea recipe. So you can easily prepare the drink at home.
Links marked with an asterisk (*) are so-called affiliate links. If you click on this and buy something, I get a commission. The price stays the same for you.
New bubble tea shops are currently opening in many German cities. I can still remember the first Boba Tea Trend a few years ago. Pearl tea is known by a variety of names.
The drink is originally from Taiwan. It usually consists of sweetened tea, milk, and tapioca pearls (boba).
Bubble tea comes in a variety of flavors. Depending on which tea, which milk and, above all, what it is sweetened with. Fruit syrups are often used, which gives it its bright colors.
I really like to drink bubble tea, but I don't like the ones in shops that much. This Boba Tea contains too much sugar for my taste.
Fortunately, you can have it at home easily do it yourself. Additionally you save thereby thereby a lot of money. For this bubble tea recipe you only need tea, milk, tapioca pearls, ice cream and something to sweeten.
Bubble tea ingredients
1 | Tea. A strong black tea is best for making bubble tea. After all, the tea is diluted by the milk and the ice and we want to keep the delicious tea taste.
I have one for this recipe English Breakfast Tea * used. But you can also use another strong black tea. It does not matter whether it is loose or in a tea bag.
2 | Milk. When it comes to milk, you can fully decide according to your personal preference. There are variants with Whole milk (3.5% fat content) or Milk alternatives possible.
I used an oat drink as a milk substitute for this recipe. Soy and almond milk are other milk alternatives.
3 | Tapioca pearls. The tapioca balls are also known as Boba. tapioca is a staple food in Brazil. It is obtained from the cassava root. This is a vegetable starch. In Germany, tapioca is often used in dishes as a gluten-free alternative.
You get Tapioca flour * online in some Asian supermarkets. You can then use this to make the balls yourself.
However, since I also like to drink bubble tea spontaneously, I buy the already finished ones Tapioca pearls * at Amazon. This saves time and is also more relaxed than making the pearls yourself.
My choice:
4 |Sweeteners. A variety of sweeteners are possible.
I got into this bubble tea recipe honey used. It's best to mix the honey with the tea while it's still hot. This will definitely dissolve it. The same applies to granulated sugar. 
You can too sugar-free alternatives such as stevia * or Erythritol* to take. Unfortunately, I haven't tested it myself yet, so I can't say how good it tastes.
The amount of sweeteners depends of course on yours personal preference from. I have in this recipe a tablespoon of honey taken.
5 | Ice. Bubble tea can warm or cold be served. I think it tastes best cold. If you don't have any ice cubes on hand, you can let the tea cool down first and put it in the fridge for a while.
How do you make bubble tea?
Now that you know all the ingredients, let's make the Taiwanese cult drink together in 3 steps.
1 | Making tea
Bring about 400 ml of water to the boil and pour it over the tea leaves or tea bags. 
Of course, you can also heat the water in a saucepan and add the loose tea or tea bags. As soon as the water boils, turn off the stove and remove the pot from the heat source.
I leave the tea for approx Brew for 5 minutes. Since the strong tea taste is the most important factor in bubble tea, the tea can easily steep longer. Be aware that the tea will taste more bitter the longer it brews.
For this recipe I have 1 tbsp honey added. Since the tea is still hot, the honey dissolves wonderfully.
1 tablespoon of sugar per glass of Boba Tea is a good guideline.
Depending on your personal taste, add more or less sweeteners. As mentioned above, experiments with sugar-free alternatives are also possible. So far I haven't tried a bubble tea with stevia or erythritol, but I'm really excited about the result.
Then leave the tea on Cool down to room temperature. If you're in a hurry or don't have ice cubes at home, put the tea directly in the refrigerator to cool.
Depending on your personal preference, you can also take a larger amount of tea (than 7 g). Depending on your caffeine tolerance, I recommend a lot in between 5-10 grams per Boba Tea.
2 | Cooking tapioca pearls
Bring 1 - 2 liters of water in a saucepan for boiling. Give with the help of a Kitchen scales *
20 grams of tapioca balls to. It is important that the water boils, otherwise the tapioca pearls will stick to the bottom of the pot and mash up. Reduce the heat and leave the pearls for Simmer for 20-30 minutes.
You recognize them finished balls that they are nice and soft and their color from brown too black have changed.
Finally, strain the pearls in a sieve and wash them out with cold water.
3 | Put everything together into a bubble tea
So, let's conjure up a delicious bubble tea from the individual ingredients.
First, fill in some Ice cubes into a glass.
I am excited about this one Ice cube mold made of silicone *. This allows the ice cubes easy to push out. The associated one is also very practical cover for the shape that prevents the water from leaking in the freezer compartment.
Then add the tea and give the Tapioca pearln to this.
At the end you fill the whole thing with 75 ml milk or your milk substitute on. This is my personal highlight when the milk and tea mix together.
Et voilá, our milk tea is ready!
Oops, of course not that one cool straw* to forget. Otherwise it's not a real bubble tea.
If the Boba Tea is not yet perfect for you, just add some milk (substitute) or sweetener.
Over time you will find out the optimal mixing ratio for you. Just be creative and experiment with the ingredients.
You can make bubble tea with many types of tea. I personally love variants with green tea or matcha.
Now it is your turn
I hope this recipe helps you to make delicious bubble tea yourself.
Have fun!
Finally, I would like to know from you what your favorite Boba Tea looks like.
What do you use to sweeten your tea? Have you ever tried sugar-free sweeteners?
No matter how you prepare your bubble tea, let me know in the comments!
More delicious recipes
Follow me!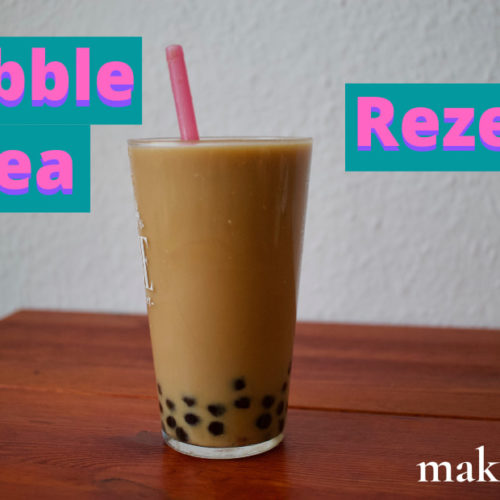 Make bubble tea yourself (bubble tea recipe)
Marc
Here you will learn how to make bubble tea with this quick and amazingly easy bubble tea recipe.
Preparation time 10min.
Country & Region Asian, Japanese, Taiwanese
ingredients
7 grams black tea (loose) or 4 tea bags
400ml boiling water
1 tablespoon honey (or sweetener of your choice)
75ml whole milk (or milk alternative of your choice)
20 grams of tapioca pearls
Instructions
Prepare the tea. Bring 400 ml of water to a boil. Add the boiling water to the loose tea (5-10 grams) or the tea bags (3-5 pieces). The brewing time is at least 5 minutes. Add 1 tablespoon of honey or sweetener of your choice to the tea. Then let it cool down to room temperature.

Prepare the tapioca pearls. To do this, you first have to heat 1-2 liters of water in a saucepan. As soon as the water boils, add 20 grams of tapioca pearls and reduce the heat. Now you let the balls simmer for 20-30 minutes. Finally, take the tapioca pearls out of the water and rinse them under cold water. The balls are now nice and soft and look black.

Make the bubble tea. Put some ice cubes in a glass and fill up with the black tea. Then add the tapioca balls. Finally, fill the glass with 75 ml of milk (substitute). Now quickly add a colorful straw and our Boba Tea is ready. Enjoy it!
Keyword Boba Tea, Bubble Tea, Bubble Tea, Milk Tea
frequently asked Questions
Is bubble tea dangerous?

No, bubble tea is not dangerous. A lot of sugar is usually added to pearl tea. Tapioca pearls (boba) also consist mainly of empty carbohydrates without any important nutrients. Therefore, the drink is not a healthy food and should therefore only be consumed in moderation.
What are the names of the balls in bubble tea?

The balls are called tapioca pearls (boba). Tapioca is made from the roots of manioc. Tapioca is a vegetable starch that is often used in Germany as part of a gluten-free diet. Bobas can be bought in Asian supermarkets or online, for example at Amazon.
What types of bubble tea are there

There are a variety of varieties. Boba Tea consists of tea, milk, sweeteners and tapioca balls. There are varieties with black tea, green tea and herbal teas. In addition to normal milk, milk alternatives such as oat, soy and almond drinks are often used. There are varieties of fruit syrups such as strawberry or honeydew melon.
Does Boba Tea contain caffeine?

Bubble tea is a drink that contains caffeine. Black tea or occasionally green tea is used to make it. A strong tea flavor is important for milk tea. Therefore, a large amount of tea is often used. There are also decaffeinated alternatives. These are made with herbal teas such as chamomile or rooibos.
Can you keep Boba Tea in the fridge?

You can prepare the tea in advance and store it in the refrigerator for 1-2 days. You should prepare the tapioca pearls fresh as they can harden very quickly. If you make your own sugar syrup, you can also store it in the refrigerator for a short time.
What does a Boba tea cost?
The pearl milk tea is available in different sizes. The drink is sold in a small, medium or large mug. The prices are usually between 3.50 - 5 euros per drink. Boba Tea is easy and inexpensive to make at home. Then it costs 1-2 euros.