What is Elementor in WordPress
Elementor Pro: Page Builder Test 2021
Page Builder Plugins for WordPress are popular tools for quickly creating a professional and individual design for your own website. All of this should be possible without much prior knowledge of design, CSS or PHP. The Elementor Pro Page Builder is a popular representative of this type of plugin. In particular, the release of version 2 with additional Theme Builder functions has led us to take a closer look at this plugin and test it.
You can find a quick overview of all important links and facts on our Elementor overview page and you are welcome to subscribe to our free Elementor newsletter!
Our page builder series:
Elementor: The development so far
Elementor is a relatively young member of the family of page builder plugins. While e.g. the Divi Page Builder or the Beaver Builder have been developed since 2013 and 2014, respectively, Elementor was only released in mid-2016.
In particular, the basic version, which is distributed free of charge via the WordPress plugin repository, already offers a lot of functions and works very quickly and stably. So that after less than two years the number of active Elementor installations already amounts to over a million (now even over 2 million) - and the trend is rising!
After a short time, the manufacturer pojo.me offered a paid pro version with an extended range of functions. In April 2018, both Elementor and Elementor Pro were released in version 2. In addition to the highly functional free version, the Theme Builder functions and the integration of dynamic content in the Pro Version make the Page and Theme Builder a very interesting tool.
installation
Even if you ultimately want to use the Pro version, you first install the free Elementor version, which you can download from the Elementor homepage or directly from the WordPress plugin repository.
In order to be able to use the additional functions of the Pro version, you have to download the Pro plugin from your account on the Elementor product homepage after purchasing and install and activate it in addition to the simple Elementor plugin. In addition, the license number, which can also be found in your account, must be entered in the Elementor settings.
Which theme?
Even before activation, the question arises as to which theme Elementor works well with.
According to the manufacturer, Elementor should be able to be used with all current WordPress themes. Very good prerequisites for problem-free interaction, especially when the Theme Builder Functions to be used, however, offer so-called Page Builder Themes. These are designed to work with various page builder plugins and optimized accordingly. This includes themes like Astra, Ocean WP and Page Builder Framework (see our Page Builder Themes test article).
The manufacturer pojo.me offers holders of the Pro license their own suitable theme for download. We mostly use the Asta theme in combination with Elementor Pro.
First impression
Immediately after installing and activating Elementor, nothing changes in the way the website is displayed.
In the administration area, however, a separate Elementor menu appears for the basic settings:
Here you can set, for example:
which types of posts can be edited with Elementor,
adjust the breakpoints for the mobile views on smaller screens,
which WordPress user role should be able to edit what with Elementor.
In addition, in this area under "My Templates" there is a template management in which in the free version you can save your own page templates and sections for later reuse. In the Pro version, the templates created with the Theme Builder functions are also managed in this area, but more on that later.
The actual Page Builder functions can now be accessed via a button in the Gutenberg Editor (yes, Elementor is compatible with the Gutenberg Editor):
... or call it up in the classic editor:
Getting started with Elementor
One of the biggest differences between the free version and the Pro version of Elementor are the extended Theme Builder functions. The free version only offers classic page builder functionality. This means that only elements in the content area (2) of individual Pages or posts are designed:
A creative adaptation of repetitive elements such as the header (1) or footer (4) or the sidebar (3) is only possible with the extended Theme Builder functions of the Pro version. The same applies to the design of so-called index or archive pages such as the blog view or a design that is automatically transferred to all blog posts.
The Elementor Editor
But let's start with the design of a single page first. After you have clicked the blue "Edit with Elementor" button, you get to the editor view:
While the Elementor menu is displayed on the left, you can see the current page on the right, the content of which you can now design. Existing content is used as a text element.
This shows that a theme with flexible setting options can be very helpful, e.g. to hide the sidebar or the page title on the respective page in order to gain more design freedom.
construction
With the help of the small pink plus button in the content area, further so-called sections can be added. Each of these sections can contain up to 6 columns:
Various design elements can now be dragged into these columns from the Elementor menu:
For each of these design elements there are three setting areas in the side menu: Content, Style and Advanced:
While "Content" largely refers to the displayed content of the element, the associated design settings can be found under "Style". The settings under "Advanced" offer additional options for spacing settings around the element, background, responsive options, etc.
Elementor design elements
Elementor Pro offers around 60 different such elements or widgets from which the content of the pages can be assembled. Almost 30 of them are already available in the free version of Elementor:
With the help of all these elements, even very complex pages can be built. But if you want to get to your goal faster, you can also use templates.
templates
Elementor offers a variety of templates for entire pages ...
... as well as for parts of a page (blocks):
In this way, beginners in particular can quickly reach their goal by building on one of these professionally designed templates and only adapting the text and image elements.
Even if there are some very nicely designed templates, the more elaborate designs are reserved for users of the paid Pro version.
No sets for users in a hurry
If you want to get to your destination very quickly, you have a small disadvantage with Elementor. The templates offered are good, but always refer to a single page. There are no sets that provide the essential parts of a website such as homepage, about us, products, contact, etc. in a uniform design.
In this respect, e.g. the Divi Theme shines with the Divi Builder. Here you can choose from countless sets of templates. Each set is geared towards a special purpose (restaurant, service provider, flower shop, wedding, etc.) and offers page templates for typical purposes such as contact, about us, etc. All of the page templates of a set are created in a uniform design. As long as you are satisfied with the design, you only need to adapt the texts and, if necessary, integrate a few pictures of your own. So anyone can build the foundation of a website very quickly.
Interestingly, some of the page builder themes like Astra or Ocean WP offer just such a service. Websites completely pre-designed with Elementor can be downloaded as usable templates from their homepage.
Work with the editor
Overall, you can work very well, quickly and smoothly with the Elementor Editor. So far we have rarely seen problems. And even if they did, the problem could usually be solved by reloading the editor.
Even if the advantage does not stand out extremely in comparison to other page builder plugins, the Elementor Editor is the most user-friendly one we have had to deal with so far. The division of the various settings can be intuitively grasped after a short time and the way to the special option dialogs is quickly found.
Responsive
Fortunately, the aspect of responsive design - i.e. design adapted to different screen sizes - takes into account almost every current theme and every page builder - including Elementor.
There are three different display modes:
Desktop view, from 787 pixels screen width and up
Tablet 360-786 pixels screen width
Smartphone with a screen width of up to 360 pixels
The so-called media breakpoints can be changed. In the editor at the bottom left, the display mode can be toggled between the three options and thus immediately checked how the design looks on a corresponding device.
In addition, each relevant setting has a small button that can be used to set different adjusted values ​​for the various devices. And last but not least, individual elements can also be completely hidden depending on the screen size.
The available templates have already been optimized accordingly and work well on any device size.
Elementor Pro as a theme builder
Even if a lot is already possible in the free Elementor version, the interesting ones remain Theme Builder Functions of the paid Pro version reserved.
What is a theme builder?
While with the help of a page builder only the content one Page, one Contribution or one Custom post types can be designed, a theme builder also offer the possibility to create comprehensive layouts. With it you can virtually design your own theme without having to have any programming knowledge.
What are the advantages of a theme builder?
If you design a blog post with a page builder, each subsequent blog post has to be rebuilt in the page builder. The design can be saved as a template and thus reused more easily, but this is a very tedious process to redesign the presentation of all your blog posts.
With the help of a theme builder, a template can be created that influences the display of all blog posts at the same time. For example, all blog articles can either be designed as follows using a template:
Or via a different template, all blog articles then look like this - without having to adjust each individual article by hand:
The two blog page templates are also available to all pro users.
In addition, with the help of the Theme Builder functions, comprehensive adjustments can be made in recurring elements such as the header, footer or the sidebar of a website. The display of archives such as the blog overview or search results can also be designed.
Custom Post Types and Custom Fields
With Elementor Pro you are not only able to influence the display of custom post types, but you can also display dynamically self-created custom fields.
For example, if there is a custom post type for books with custom fields for author, year of publication, publisher, blurb and a book review with rating, you can design a template that precisely determines which information is displayed in which position. The editor used is the same as in normal page building.
The Elementor Popup Builder
Since Elementor Pro version 2.4.0, an extensive popup builder has been integrated in the paid version, which does not need to shy away from comparison with the common popup plugins such as Convert Pro, OptinMonster or Ninja Popup. Basically, there are only two major points of criticism: the statistics function that has been missing so far and that no time limits can be set for popups.
Otherwise it is quite astonishing how well this function has been integrated without paying an extra charge. If you want to know more, we have put this function through our own test, which also contains step-by-step instructions for setting up popups in Elementor: Elementor Popup Builder Test & Instructions.
The lock-in effect: what happens when Elementor is switched off?
Before you use a page builder, you should be clear about the so-called lock-in effect. That means almost everything that you design in a page builder is only displayed as desired as long as you have activated the corresponding page builder plugin.
Unfortunately there are no page builder standards, so page builder plugins cannot simply be exchanged. The pages that were created with a Page Builder Plugin cannot simply be taken over by another Page Builder and have to be largely rebuilt.
However, this applies to all page builders and is not a particular disadvantage of Elementor. So you should first consider whether you want to use a page builder at all and then choose a page builder plug-in that you can assume that you will and can continue to use for the next few years.
If you deactivate Elementor, only the images and texts are displayed one below the other.
With the Elementor plugin active:
With the Elementor plugin deactivated:
This is a bit better than some other page builders that leave a shortcode desert after deactivating them (see Divi Theme), but ultimately not much better if you want to switch.
Elementor code, speed and advancement
Elementor was developed from the outset with a focus on a lean, well-thought-out code base and this is also noticeable. On the one hand, the editor reacts very quickly during page building and we have only seldom seen anything stuck there or causing problems.
On the other hand, the use of a page builder always affects the performance of a website. But Elementor is relatively careful with the server resources. Everyone should make sure not to use weak web hosting and also look at the topic of caching. This should keep any performance problems in check.
As far as active further development is concerned, the manufacturer does not need to hide. After a brilliant start was made with the first version, not only bug fixes, but also updates with interesting new functions are now being released on a regular basis.
Due to the success of Elementor, nobody needs to worry that the further development of the plugin will stall or be stopped altogether. Rather the opposite.
Elementor support
So far, we haven't really been able to contribute much to the topic of support, because we haven't had any need to take advantage of it. This can of course also be an indication of the good quality of the code and the ease of use of Elementor. There are mostly positive voices about Elementor Support on the internet.
Distribution & Community
As already mentioned at the beginning, Elementor has seen rapid development in terms of distribution. To have over a million active plugins within two years is already a mature achievement and testifies to great popularity among users.
In addition to an official Elementor Facebook page, there are two unofficial Elementor Facebook groups (1 & 2), as well as our own German-speaking Elementor Facebook group and an unofficial support forum. Someone has also gone to the trouble of creating an extensive public collection of information about Elementor in Trello. All of these offers are only available in English.
There aren't as many articles, videos and tutorials for Elementor as there are for the long-established page builders like the Beaver Builder or the Divi Theme. But the number is growing steadily.
Third party providers
The widespread use of Elementor also has the pleasant side effect that some third-party providers for additional widgets, templates, etc. can now be found. The most popular are:
The provider Envato, known from Themeforest, has meanwhile published an interesting plug-in called Envato Elements - Template Kits which can be used to load Elementor templates directly from the Envato catalog. All templates are currently available free of charge, but fee-based ones will be added later.
Elementor German
There is a German language version for the designation of the settings in Elementor, which is automatically loaded when the appropriate language is selected in WordPress, but unfortunately that was it with German-language support. The complete documentation and support are only available in English. And even the translation of the settings often lags behind the development, when new functions are integrated, it often takes a long time for the German translations to follow.
However, Elementor is not an outsider compared to other page builder plugins.So far there is no other WordPress page builder that offers German-language support or documentation. If you like, you can register for our free German-language Elementor newsletter and our Elementor Facebook group.
Elementor prices & discount
Getting started with Elementor is made easy, as the free version already offers a comparatively large range of functions. So you can at least test in peace and familiarize yourself with the way Elementor works. The manufacturer pogo.me has promised that the free version will remain permanently available and will be continuously developed.
If you want to use other functions such as the Theme Builder options, you have to purchase an Elementor Pro license. The manufacturer offers a detailed comparison table that you can use to see how the two versions differ.
In short, the Elementor Pro license includes over 25 additional Pro Widgets, over 75 Pro Templates, Premium Support, integrations into services such as Zapier or Online Marketing Services, functions that support your workflow and integrations into WooCommerce.
The Elementor Pro license is offered in three versions. While all plans include the full functionality of Elementor Pro, they differ in the number of websites Elementor Pro can be used on:
Elementor prices (as of January 2020).
Important: Due to the corresponding regulations, the manufacturer has to charge sales tax, depending on which country the buyer comes from, so that 19% sales tax is added for purchases from Germany. Anyone who is doing business can register by specifying their VAT ID number. (English VAT) exempt from tax payment.
staff: $ 49 for using Elementor Pro on one website
Business: $ 99 for using Elementor Pro on three websites
Unlimited: $ 199 for using Elementor Pro on unlimited websites
The prices are valid for one year with updates, support and access to all Pro functions and Pro Templates for the specified number of websites. If the license is renewed after one year, you get a 25% discount. In addition, there is a 30-day money-back guarantee, so that you can try out whether you are satisfied with Elementor Pro and if you want to cancel the purchase without giving a reason.
Elementor FAQ on the Pro License
Can I also use the license for customers or friends?
That is possible without any problems. A web designer can make his unlimited license available to his customers.
Can the license be extended at a later date?
That is possible without any problems. For example, if you want to switch from staff to business, you only pay the difference between the plans.
What happens if you don't renew the Pro license?
Then all created pages remain intact, but you will not receive any further updates, no access to Pro Templates and no more support for Elementor Pro.
Is there a lifetime license?
No, unfortunately there is no lifetime license where you pay a one-time higher purchase price and receive lifelong updates and support.
Elementor discount
Apart from the above-mentioned so-called renewal discount for an extension of the license after one year of 25%, there are no permanent discount offers for Elementor. General discount campaigns are rarely run. As a Black Friday WordPress offer, 25% discount was often granted in the past.
If you would like to be informed about Elementor offers, tips, tricks and news, simply register for our free Elementor newsletter.
Elementor alternatives
Which Elementor alternatives are there and which advantages and disadvantages do they offer in comparison? The currently most popular page builders are the Beaver Builder, the Divi Builder (in combination with the Divi Theme) and WPBakery (formerly Visual Composer). While the plugins are very similar in the functional area of ​​the page building, the differences become more apparent in the extended range of functions and in the pricing.
The Beaver Builder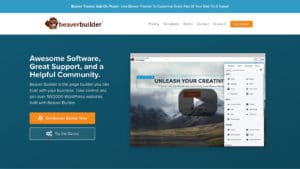 Beaver Builder is one of the most popular page builders A WordPress Page Builder Plugin supports even inexperienced users in designing modern, attractive page content. Plugins A plugin is an extension that can be integrated into WordPress and provides additional functions. More. It is known for its stability and ease of use.
The Beaver Builder is also a very solid and widely used page builder plugin that is highly valued by many users. In contrast to Elementor, all license plans can be used on an unlimited number of websites, but the prices only start at $ 99.
In addition, if you want to use Theme Builder functions, you have to purchase an additional plugin, the "Beaver Themer" for another $ 147. The total price of this combination of $ 246 is already well above the $ 199 for the Elementor Pro Unlimited license.
The Beaver Builder is a very solid product - but even in the paid version there is only a very manageable number of elements and settings available without add-ons.
The Divi Builder or the Divi Theme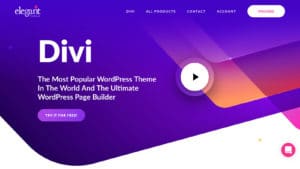 The Divi ThemeA WordPress theme is a design template on which the appearance of the associated website is based. More is a very popular multipurpose theme with integrated page builder A WordPress page builder plugin supports even inexperienced users in designing modern, attractive page content. Functions.
The Divi Builder is a little different from the typical Page Builder plugins in some ways. On the one hand, the plugin is not offered individually, but in a package with the Divi theme. In addition, the license is only available as a membership, which costs $ 80 per year. But with this Divi can be used on any number of websites and there are also a few premium plugins such as Bloom or Monarch and the extra theme for the package (you can find more details in our Divi Theme test article).
Divi is a very interesting option in terms of price, especially if you want to use this page builder on several websites or on the websites of customers. A lifetime license is offered for a one-time fee of $ 249 (plus VAT). Once purchased, Divi can be used on any number of websites and you receive lifelong updates and support at no additional cost.
In addition, Divi now offers over 70 layout sets, which always contain 6 to 8 page templates that are coordinated in terms of design. From these, inexperienced users can put together their website relatively quickly.
On the other hand, in our experience, the Divi Editor is not quite as user-friendly as Elementor's. In addition, Divi does not yet offer any theme builder functions. But a corresponding update has already been announced, so you don't have to wait too long for it.
If you want to learn more, the best thing to do is to read our Divi Theme Test.
WPBakery & Visual Composer
WPBakery was probably one of the earliest page builder plugins on the market under its former name Visual Composer. Its very high prevalence is largely due to the fact that many themes offered on Themeforest have integrated this page builder. With the purchase of such a theme, the use of the Page Builder plugin was included in the price.
The name change of the plugin to WPBakery has led to some confusion, because a new plugin with Theme Builder functions is now being sold under the former name Visual Composer. Surprisingly, pages created with WPBakery have not yet been loaded into the Visual Composer.
We haven't worked with WPBakery very much ourselves. The editor didn't seem quite as solid and comfortable to us as that of Elementor and Beaver Builder.
More page builder plugins
In addition, there are of course other page builder plugins that we have not yet thoroughly tested, such as Thrive Architect, SiteOrigin or Brizy.
Elementor test conclusion
On the whole, we're pretty excited about Elementor Pro. The plugin combines many advantages:
The free version is already equipped with many functions
The inexpensive Pro version includes full Theme Builder functions and all functions are already included in the smallest plan
The Pro version also includes an extensive popup builder
Nice templates for editing
Stable editor that is very user-friendly to use
Lively development and regular updates with new functions
High distribution with offers and integrations from other providers and helpful communities
From our point of view, there is little that has a negative effect:
You have to pay significantly more to use it on many websites
There is no lifetime license
No page template sets are offered that are coordinated with one another in terms of design and purpose, so that a coherent entire website can be set up quickly.
No German-language documentation or support in German (but not yet offered by any other page builder plugin)
If you have decided to use a page builder despite the lock-in effect, Elementor Pro is a good choice from our point of view. The Divi Builder is a little better priced and with its layout packs. The Beaver Builder has been around for a while, but costs more than Elementor.
More Elementor information
In our detailed article Creating a WordPress Website, we explain step by step how you can set up WordPress and use Elementor as a PAge Builder. We have created an Elementor overview page on which you can find all important links and facts in a condensed form. If you want to use Elementor, register for our Elementor newsletter and also for our German-speaking Elementor Facebook group.
Our page builder series: