Older women like younger men
Comment: Women are allowed to love younger men - finally accept that!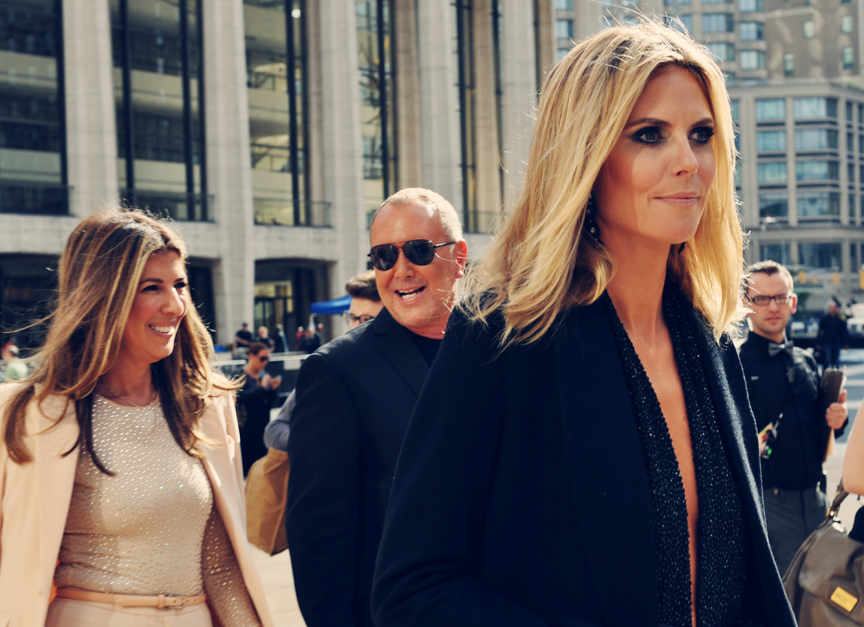 Seldom has a love in the media been so torn as that of Heidi Klum and Tom Kaulitz. At a time when gay and lesbian couples are allowed to marry, the relationship between a woman and a significantly younger man is still a scandal. Why is our society so old-fashioned on this point? A comment.
Heidi Klum is getting married. For the third time. And she already has four children. At the age of 45, she is one of the most prominent and perhaps the most well-known women in show business. Now she seems to have found happiness on a private level with her fiancé Tom Kaulitz - but the fresh Klum's love polarizes. The problem: your future husband is not a man her age. Tom Kaulitz is 29 years old, 16 years younger than the model. ZEIT calls him "Bubi", GALA a "hardly grown-up lover". When Klum and Kaulitz made their love public in March 2018, the STERN described their relationship with "When he went to school, she modeled in lingerie". The relationship is "strange". But not only the media treated the issue one-sidedly. Criticism and condescending sayings also increased in the comments.

You only use the Kaulitz to keep talking. She must be desperate if she gets involved with such young, inexperienced men. The fashion taste of her young lover rubs off on Heidi - embarrassing how she tries to appear obsessively youthful. That is certainly just a PR gag, something like that has no future. And above all: how can she do this to her children? Whereby - now they have a fifth sibling.

"When he went to school, she modeled in lingerie" (about Heidi Klum and Tom Kaulitz, 16 years of age difference)
Of course, this debate is fueled by Klum's prominent status. There is hardly a facet of her private life that is not exploited in an inflationary manner in the German gossip columns. But the media handling of their relationship situation is also a blueprint of a social double standard. It shows the everyday reality for many partners with a similarly large age difference. The problem is bigger than the gossip columns.
If a woman loves a younger man, it almost always includes drama and lots of topics to talk about. Why actually? In my own circle of friends, it was always the norm and by no means worth mentioning that men love younger women. But as soon as a woman was only a year older than her boyfriend, it was asked how it could come to that, whether she could not find anyone "her age" and what could please her about a younger man. I have witnessed several times how friends reacted by surprise when they found out about a small age difference or a younger male partner. "What? Is he younger than you? I didn't even know that! How strange ... "It wouldn't be the other way around, of course.
For this point of view, there are also numerous "showcase examples" among Klum's glamor colleagues in the celebrity world. George and Amal Clooney are 17 years apart. The 38-year-old Matthias Schweighöfer turtles with the 23-year-old Ruby O. Fee. I don't even want to begin with Leo DiCaprio, who visits all of Victoria's Secret descendants. With an older man, discussions only arise when there is a significant age difference, as is the case with 46-year-old Michael Wendler and his 18-year-old girlfriend.
"First words: Ruby O. Fee raves about Matthias so sweetly!" (About Matthias Schweighöfer and Ruby O. Fee, age difference 14 years)
I don't want to badmouth all of these relationships, on the contrary. However, I don't understand why the acceptance and understanding of relationships with a large age difference are so single-sex - both in the media and in everyday social life. Even when I was at school, as a young girl, I often heard that boys of the same age were less adult and that a slightly older partner would better suit my mental maturity. The clichéd image of the family with the father as the eldest of the family, a younger mother and a few children seems to be more topical than it should.

These age-old role models should have been outdated long ago. Of course, if a couple decides to build a "classic" family, to pursue the desire to have children, it is easier if the woman is of the appropriate biological age. Nowadays, in our society, a woman does not have to have children if she does not want them. And even if she changes her mind, it's now easier to become a late mother. A relationship just doesn't have to be about dependency or potential family planning in the first place. At the age of 29 and a gigantic fortune, Tom Kaulitz can decide for himself whether and whom he wants to marry and whether he feels exploited. And men and women with less money can do that too.
Why is it so difficult in such an open society, in which everyone insists on tolerance, feminism and "kiss who the fuck you want", to accept that women can love younger men and young men can love older women? We have bigger problems than judging people who make each other happy.
Post picture: "Heidi Klum, Michael Kors, and Nina Garcia" by Jiyang Chen under CC license on Wikimedia