Why has Singapore banned chewing gum
Offense chewing gum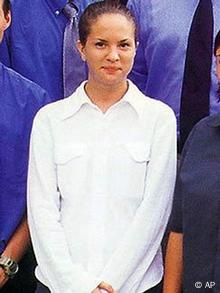 Julia-Suzanne Bohl shown in this undated copy from the Singapore German School yearbook Thursday March 21, 2002. Bohl was arrested last week in Singapore and has been charged with drug trafficking and may face the death penalty.
The penalties for drug possession and use are severe. The deterrent policy works: Singapore has one of the lowest drug abuse rates in the world. In the case of Julia Bohl, the death penalty would have been imposed if the amount of drugs found on her had exceeded the critical mark of 500 grams of pure cannabis. Julia got away with her life again: The drug seized contained only 281 grams.
The execution takes place in secret
340 people have been executed in Singapore over the past decade. Most of them, 247 people, were for drug offenses. All those sentenced to death were hanged, according to a statement from the Interior Ministry. Executions usually take place at dawn on Fridays. According to its government, Singapore is one of the safest countries in Asia because of its strict laws. Murder automatically carries the death penalty.
But it is not only serious crimes that are severely punished in Singapore. Failure to flush a public toilet also carries a heavy fine. Chewing gum is also prohibited, as is smoking in a taxi queue. You have to pay $ 500 for this. Almost all aspects of public life - from keeping pets to behavior at pedestrian crossings - are strictly regulated.
Lost ID costs just under $ 1,700
Even a discarded match can quickly become expensive negligence. Those who are caught for the first time get away with a fine of 150 Singapore dollars (94 euros) for smaller waste. Beverage cans or newspapers can cost up to $ 1,000, and incorrigible filthers face a fine of up to $ 5,000. Optionally, the authorities can also impose a work assignment of up to twelve hours, mostly to collect rubbish on public streets and squares.
The law-and-order policy seems to be paying off: Singapore is considered the cleanest city in Asia. Litter on sidewalks and streets is a rarity. In the outskirts, too, green bins placed a few hundred meters apart urge residents to throw their cigarette butts there and not on the street. The strict rules are not an end in themselves: At tropical temperatures of more than 30 degrees, rubbish rots quickly and attracts vermin.
The fight against drugs
Since the Julia case, the uncompromising punishments of the spick and span city-state have once again become the focus of public interest. Singapore is known for the fact that international pressure has no effect. In August 1994, the Dutchman Johannes Van Damme was the first Western foreigner to be executed in Singapore for drug offenses - despite appeals from the government in The Hague and from Queen Beatrix.
The people of Singapore showed little pity. His case aroused just as little interest as the Julia case. The death penalty is fully accepted in society and the "zero tolerance" strategy towards drug dealers is felt to be the right one. People on the southern tip of the Malaysian peninsula do not want to know anything about western drug policy, legalization debates and trigger rooms.