Marketers rely more on content marketing
Content Marketing: A Comprehensive Guide For The Modern Marketer
HubSpot supports marketing teams of various sizes and from a wide variety of industries with their content marketing on a daily basis. If necessary, we accompany you step by step and answer the following questions again and again: What is content marketing and when should you fall back on it? Which competencies and which specialist knowledge do you need and how can they be trained? What tools do you need? How do you create and promote content? And how do you know whether your own strategy is successful?
The answers to these questions are not only important for our customers, but for all marketers who want to turn their back on traditional marketing. For this reason, we present you with a guide that unites the big questions of content marketing and offers you an insight into various success strategies. The following article gives a very detailed look at the topic (where "detailed" means "long"). So you may well need to bookmark it to continue reading later.
What is content marketing?
Let's start with a definition. That sounds easier than it actually is: There are dozens of definitions of "content marketing" (including the somewhat superficial definition "in content marketing, content is used for marketing"), none of which is really satisfactory. But it is well known that progress should not be stopped, especially not through excessive perfection. So here is a short definition, on the basis of which we can further build our considerations:
Content marketing is a marketing approach that focuses on the creation, publication and distribution - mostly online - of content for a target group and the aim of which is to win new customers for a company or a brand.
The most common content includes posts for social networks, blog articles, visual content and premium content such as tools, e-books or webinars that are only accessible by providing contact information. The following examples show what content marketing can look like in practice.
Example 1:
You run an accounting firm that specializes in tax preparation. Business was a bit sluggish this year. But that should change in the coming year. So publish blog articles on your website that address the most common tax questions that are relevant to your target audience. You write a handful of articles every week and after a while your posts appear in the search results of Google and Co.
When it's time for tax returns and Google is overwhelmed with search queries about tax preparations, one or the other user stumbles across your blog and becomes aware of your offers and services. Some interested parties will still prepare their own tax returns, but they might make a note of your company for the next year. Others throw up their hands in jubilation, say goodbye to the rigors of tax work and turn to you - after all, you obviously have expertise in this area.
Example 2:
You are the head of marketing in an agency that specializes in design solutions for small businesses. However, you find it difficult to attract the right customers, as many small businesses view the services of an agency as an unnecessary additional expense. So you decide to give them a hand with some DIY design tools and thus make them aware of the added value of your services.
After you've done keyword research and found that approximately 2,000 potential customers search for "Create Infographics" each month, you decide to provide an infographic design tool. The highlight: There are no costs for the user when using the tool for the first time. If the tool is useful to consumers, they can still create infographics for free, provided they provide their name and email address.
For illustrative purposes, create a handful of infographics and share them on social media so that interested parties can see the functions of the tool for themselves. Thanks to social media traffic and organic search, the tool is used by a few hundred people every month.
Some people enjoy it so much that they provide their name and email address so that they can keep using your tool in the future. The contact information then makes it easy for you to identify some of the users of your tool as potential customers and keep in touch with them until they eventually become real customers.
Why a content marketing strategy is essential for businesses
These examples may seem very laborious to you, especially when compared to marketing approaches that promise not only more, but also immediate success. For example, by purchasing email address lists, paying per click ads (PPC) or advertising at trade fairs, you can have tons of names and email addresses in just a few minutes. In fact, many marketers only come to content marketing when other approaches turn out to be ineffective, expensive, immeasurable, or all of the above. Let's take another look at the example of the infographic creation tool.
Let's say you mainly use PPC ads to generate leads. Now, however, you want to increase the number of your leads, so you decide to bid € 2 per click for the keyword "Create your own infographic". At the end of your month-long campaign, you generated 1,000 leads and invested € 10,000. Not bad. But what are you doing next month? You have to invest € 10,000 again. And again the following month. And again. Assuming, of course, you want to keep growing your leads.
In other words, if you turn off the tap, no more leads will be generated. The same goes for buying email address lists, advertising at trade shows, and any other method where lead generation takes place in an environment where you are out of control. How does it work with blogging?
You're writing an article about your infographic creation tool for your blog. They also include a link that takes readers to the tool so they can try it out for themselves. Let's say the conversion rate from visitors to leads of your blog article is 2% and is the same as that of your PPC campaign. If 100 prospects read your blog article in the first month after publication, you will receive two leads. The advantage: your work is done. Over time, that one blog article will generate more leads month after month, year after year. And that scenario continues for every future blog post you write.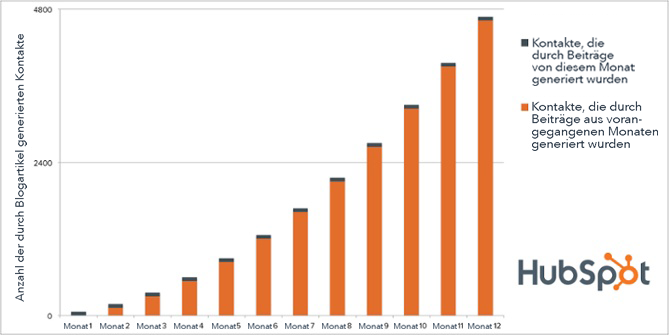 With the help of content marketing, companies can ensure cost-effective, predictable and scalable traffic and lead numbers. At the same time, marketers are no longer so dependent on their monthly budget.
Most companies, however, do not get into content marketing by chance and completely turn away from all other advertising measures. In practice, content marketing is usually combined and enriched with other approaches. For many companies, the main reason for adopting content marketing is to generate traffic and Leads, with more Cost efficiency, predictability and Measurability than with other marketing approaches.
If you recognize yourself here, you should definitely read on. Because now let's take a closer look at how content marketing works.
Step 1: the team structure
Content marketing doesn't work without a skilled workforce. So the first step is to hire the right person to lead your marketing strategy. There is no one-size-fits-all solution for structuring teams. The best solution for you will largely depend on the size of your company, your marketing team, and your budget.
For the sake of simplicity, we assume that these three points correlate with one another, which is often the case in practice. This allows us to use a few templates based on the team structures of other companies with a focus on content marketing, and thus help you to successfully find the right employees for the relevant positions.
In the diagram below, content marketing is representative of attracting, because with content marketing you attract new potential customers to the top of the marketing funnel. The terms "convert" and "complete" refer to the middle and bottom of the marketing funnel, respectively. Marketing approaches such as email marketing, lead nurturing, sales enablement, CRO and many more can be found there.
Startups, individual marketers, little to no content marketing budget
If you are a one-person operation or your marketing team is just one person, then there is no question of who is responsible for content marketing. The appropriate person is responsible for all activities in the marketing funnel.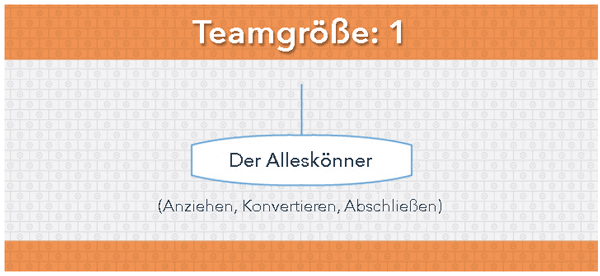 The tasks in content marketing include:
The creation of content - written and visual, extensive (often only accessible by filling out a form) or short and crisp (publicly available, e.g. blog articles)
Optimizing this content for search engines (SEO)
The management of your social networks
SME, team of 3, small content marketing budget
As your marketing team grows, managing content marketing becomes trickier. A team of three marketers already offers you a certain amount of leeway. For example, one person can take care of content marketing while the other two employees take care of the marketing activities for the middle and lower sections of the marketing funnel. Alternatively, you can entrust two employees with content marketing tasks and the third person for the other marketing areas.
In most cases, the latter approach is recommended because if you really want to support your sales, it is important to build your brand awareness in public and create content that will draw a lot of leads to your business over the long term. The fact is, if you double your lead count, you'll automatically get twice as many of high quality Leads - provided you are using software that allows you to efficiently filter new leads. In this way, you can establish effective sales and marketing processes.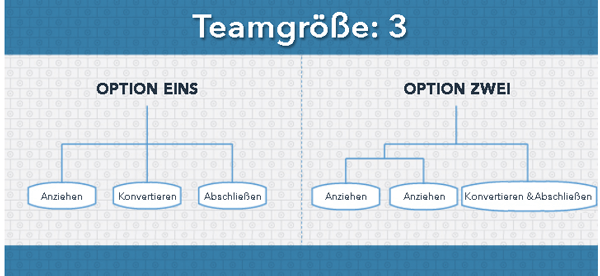 The tasks of the employees in the content marketing team do not differ significantly from those in a one-person company: the creation of content, SEO and the maintenance of social networks are important. Even if you employ two people for content marketing, the exact distribution of tasks must first be clarified. Both employees must be involved in all three areas of responsibility, with the management of content marketing being divided between the two employees.
Medium-sized company, 9-person marketing team, own content marketing budget
Now it starts, only like this correct to get interesting. If your marketing team consists of around nine people, it is still a good idea to invest in too much content marketing and thus expand the top of your marketing funnel rather than too little.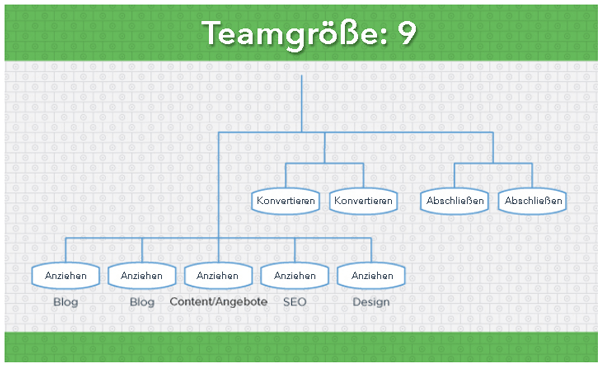 For example, if you have five people available for content marketing, you can distribute the tasks as follows:
Blog: Two employees
More extensive content (premium content): A employee
SEO: A employee
Design: A employee
At a company size like this, employees will most likely report to a CMO or other marketing director. The CMO should therefore lead the content marketing, while the remaining team members do the daily tasks.
Large corporation, 18-person marketing team, high content marketing budget
With 18 employees in content marketing, you have more staff available, but the functions of your employees remain the same: blog authors, content authors for larger publications, SEO experts, designers. At least three blog authors and two other employees per task prove to be optimal. In addition, it is advisable to have an experienced proofreader among the blog authors so that the quality of your content does not suffer even if the volume increases.
At this point it is also time to hand over the management of the content marketing department to an employee. Unless, of course, you want two dozen people to report to the CMO. The names of the respective roles can vary from company to company. Examples are Director of Content, VP of Content, Chief Content Officer or Editor-in-Chief.
The tasks of this position are just as varied: It sets the team's visions, secures the budget, hires the right talent, contributes to content ideas, finds solutions for more growth and helps in coordination with other department heads of the company, to counteract excessive isolation of content marketing.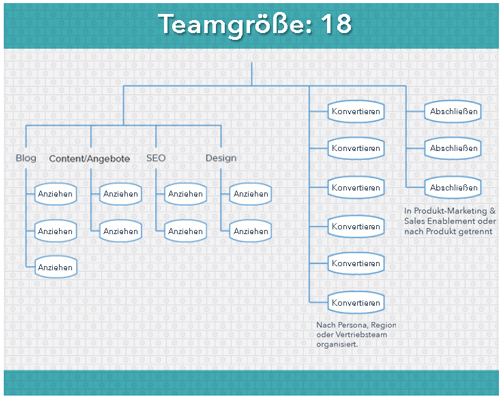 Some companies may have well over 18 people on their marketing team. At HubSpot, for example, the marketing team consists of over 200 members. Nevertheless, the composition of our team is not that different from the structure of an 18-person team - with one small exception. The design team is not part of the content marketing team, but an independent department. This can also be useful for your company if:
Designers are also needed by all other teams. So you not only perform tasks that are at the top of the marketing funnel, but are involved in the entire process;
Your authors have experience creating simple designs such as the layout of e-books, creating images for social media, or working with simple front-end designs;
Your budget for content marketing is large enough to either commission an external agency or, if necessary, entrust a third party with design contracts.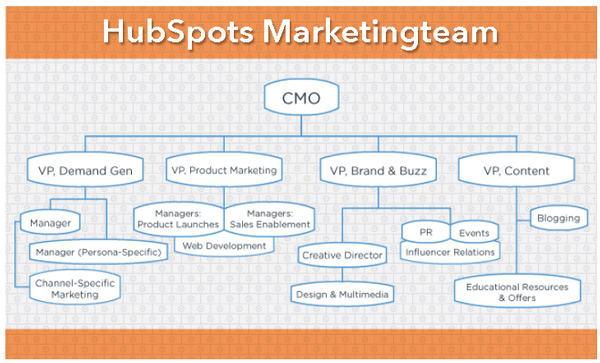 Step 2: the recruitment
So far we have dealt with the team structures in the area of ​​content marketing and the different job titles of your potential employees. But what qualifications should your employees have? And how do you find the right talents for the respective functions? To give you a few pointers, the following are sample job descriptions, including the knowledge and qualifications ideal candidates should bring.
Please note, however, that your company may have different needs. Perhaps you are looking for authors who have experience in a certain subject area, or for authors with more extensive content who are familiar with one or the other programming language. Of course, your job titles can also be different and instead of "content author" the "content strategist" appeals to you more or the "social media manager" is referred to as a "specialist" in your company. You can (and should) adapt the names suggested here according to your wishes and needs. See it as an aid if you are filling one of the following positions for the first time.
Blog author
We are looking for an experienced, creative writer to join our blog team. If you are talented, enjoy writing yourself and have extensive experience in the industry, then you are the right candidate. As a blog author, you must ensure and develop brand compliance in all content on our blog.
Your tasks:
You write various articles on various topics for our blog.
You give feedback to other authors and edit their content.
You optimize content for search engines and generate leads.
They conduct analysis to improve blog strategies and tactics.
They ensure that the number of subscribers grows and the reach of the blog is increased.
Your profile:
You are passionate about content marketing and our corporate vision and have already acquired extensive knowledge of the industry.
You have excellent skills in writing and editing blog articles and have an excellent feeling for language, so that you always hit the right style and tone in the various media of our company.
You have an analytical mindset and are interested in a data-driven approach to optimize or measure blog marketing strategies and tactics.
You have organizational skills, enjoy working independently and manage complex projects successfully.
You have 2–3 years of professional experience in marketing and content creation.
Content Author - Premium content
We are looking for a committed and talented content writer who regularly works on a wide variety of projects and blog articles to optimize our digital footprint and brand awareness and to increase subscriber numbers and leads. Are you very creative, have an eye for detail and already have some experience in project management? Then you are the right candidate.
Your tasks:
You create one or two free resources a month to increase the number of leads and subscribers, brand awareness and / or other key metrics (e.g. through e-books, white papers, infographics, guides, etc.).
You regularly write blog articles to promote your other projects and drive traffic to our website through search queries, social media and email subscriptions.
You ensure the expansion of our subscriber base by regularly providing subscribers with helpful content tailored to their interests.
You will work with designers, the product marketing and sales teams, external influencers and industry experts to produce relevant content that resonates with our key stakeholders as well as our target audience.
You convince others that it is worth looking into your creative input. In your role, you are an integral part of the marketing team. This means that others need to be able to rely on your work every day.
Your profile:
You have successfully completed your bachelor's degree or comparable vocational training.
You are already experienced in creating content, especially online media, and are familiar with the specifics of the different channels (blog, SlideShare, Facebook, Twitter, etc.)
You have experience in building target groups - either online or offline.
You pursue a dual approach: on the one hand you are a creative mind with excellent writing skills, on the other hand you can also adopt a process- and success-oriented way of thinking and make data-supported decisions.
Social media manager
We are looking for a social media manager who will take care of growing and maintaining our following in order to convert them to leads, customers and active fans and promoters of our brand. You are familiar with the best practices and trends in social media marketing, enjoy working creatively and are familiar with building and converting digital target groups.
Your tasks:
You take care of the construction and management of our profiles and appearances in social networks such as Facebook, Twitter, LinkedIn, Pinterest and possibly other channels (Snapchat, Instagram, etc.).
You create the appropriate shareable content for the respective network.
You communicate with users and participate in relevant discussions on social media about our brand, competition and / or industry.
They regularly place advertisements and campaigns on social media and track their performance - this includes chats on Twitter or conversations on LinkedIn.
You will work in a team with other marketers and content writers to share informative and entertaining content.
They ensure the continuous generation of relevant traffic and corresponding leads from our social media sites.
Your profile:
You have successfully completed your bachelor's degree or comparable vocational training.
You yourself are an active user of various social media channels and are familiar with their specifics and best practices.
You are not only a talent for communication, but also a creative mind who can make data-driven decisions, but also has good intuition.
SEO expert
As an SEO expert, you need to identify appropriate opportunities and take the appropriate measures to optimize the ranking of our brand and our content for keywords in search engines.
Your tasks:
You manage both on-page and off-page SEO for our brand.
You'll work on a team with blog writers to create quality content on important, relevant topics.
You optimize our content in terms of its performance in organic search in search engines and set goals based on traffic, click rates and conversions.
You are familiar with the latest trends and changes in the field of SEO and well-known search engines.
Your profile:
You have successfully completed your bachelor's degree or comparable vocational training.
You have in-depth knowledge of the relevant factors for search engine ranking and optimization and are familiar with the latest algorithms.
You have experience with web analytics and keyword tools.
You have experience in data-driven SEO methods and analysis.
You have excellent written and spoken language skills.
Designer
As a designer, you are responsible for creating and updating our marketing materials and content to support product marketing and other marketing areas. The suitable candidate will accompany the user experience of our brand from the first idea to the actual implementation by optimally staging our brand and implementing it uniformly across all points of contact.
Your tasks:
You support the team with innovative ideas in the creation of designs and content thanks to your experience and talent for creating great designs.
You work with authors of extensive and short content in order to make their content appealing with your design.
You will design and create templates to enable our team to work more efficiently when publishing content on social media, blog, email marketing and other media.
You are responsible for the design of other resources such as presentations, signs and exhibition materials.
Your profile:
You have successfully completed your bachelor's degree or comparable vocational training.
You have already gained professional experience as an in-house designer or in a marketing agency. (Please enclose relevant references with your application.)
You are experienced in designing content that has been created for use on smartphones, tablets and desktops.
You have excellent knowledge of Adobe Creative Suite or similar programs.
Experience with HTML, CSS and JavaScript is a great advantage.
Step 3: The right tools and technologies
Content marketing is actually simple: once you've got the right employee (s) on board, nothing stands in your way. The only thing missing now are some basic tools and programs for publishing your content.
Don't overcomplicate things. The different technologies for content marketing can actually be easily divided into two categories: "important tools" and "nice additions". The "nice additions" include tools with which you can keep an eye on your competition, tools for market research purposes or software for determining trends in real time.
You can experiment with it a little and thereby get an overview of whether a purchase makes sense for you. Most of the tools are available in a free trial version, so it's easy to get an idea for yourself. Before you get lost in gimmicks, however, make sure you have the most important technologies that no content marketing team can do without.
CMS
At HubSpot, we use… well, HubSpot. With HubSpot's content management system (CMS), you can quickly and easily create and publish content in a format optimized for the web. Whether you choose the HubSpot solution or another CMS, the only thing that really matters is you a Use a CMS that makes it easy for your marketing team to blog, post blog articles and websites without having to contact IT every time.
Analytics
You absolutely need analytics software for your website and blog. This is the only way you can compare the performance of your content marketing with your goals. Many teams rely on Google Analytics for these purposes; Others prefer internal solutions with which content marketing measures in the upper area of ​​the marketing funnel can be easily combined with sales.
If you want to determine the success of your content marketing based on key figures, the latter solution is recommended. With analytics programs of this kind, you have the opportunity to secure a higher budget and grow your team. Another alternative is DataHero, with which you can make your key figures and data easily accessible to all employees in the company. The tool can be integrated into HubSpot, allowing you to track, display and share your analytics using individually customizable dashboards and diagrams.
Project management software
Content marketing has a few hurdles for smooth project management: When working with social media, you always have to react quickly, blog articles have to be written and published at regular intervals, and many of your materials are used in various campaigns and by a wide variety of teams. For this reason, simple project management software is an indispensable tool.
One way to do this would be to use Trello, free software that lets you organize your content, set deadlines, attach dates, and collaborate with multiple teammates. Another great tool for organizing content projects is Zerys, a content marketing software with an integrated marketplace with professional writers, with which you can oversee the entire project cycle from planning to publication.
Design software
Visual content plays an important role in a successful content marketing strategy. In our experience, content marketers are well served with the Adobe Creative Suite for all important issues: The layout design of e-books, the design of infographics, the creation of images for social media and much more is possible without any problems. The most popular software solutions in this area include InDesign, Photoshop, Illustrator, and Acrobat. A free alternative is Canva. Canva enables designers of all skill levels to easily create great visual content such as presentations, covers, advertisements, and more.
As already mentioned, these are only the most important technologies for getting started in content marketing. As your business expands, so too will the number of tools and software solutions that may be worth investing in.
Step 4: creating content
The team is up. The right technologies were acquired. Now only one thing is missing: content. In this blog article, we can't cover every single pitfall that can be encountered in content marketing. In order to still be able to offer you relevant assistance, we will deal with the following 1) the types of content a marketing team could create, and 2) the people involved in creating the content.
Blog Article:
You probably guessed it by now: blog articles are usually written by blog authors. However, if you have enough staff that one person can focus solely on creating proprietary and premium content - such as e-books and tools - that person should also write appropriate blog articles to promote that content.
Another important point to keep in mind is the collaboration between SEO experts and blog writers. Blog articles are often the best way to get to the top of organic search queries. Therefore, blog authors should write posts that on the one hand improve the SEO of the website and on the other hand generate both traffic and leads. The editors should therefore know about methods such as keyword research or SEO.
Types of blog articles:
Instructions: Articles explaining the first steps of an application to the readership; If they are matched to long-tail keywords, they are usually very suitable for organic search
List articles: Prepared examples that can be informative and therefore easier to find, or simply intended to be entertaining